Banksy Art Prints Available Now in Toronto at Alternative Arts
Famous England-based graffiti artist Bansky produces political works of graffiti art that are intended to be thought-provoking and moving, and often use humor and irony to make a point. Banksy's political and social commentary have been featured on streets, walls, and bridges throughout the world. Banksy's work, which is usually politically charged and filled with social commentary, grew out of the Bristol underground scene.
Banksy displays his art on publicly visible surfaces such as walls and self-built physical prop pieces. Banksy created a documentary film, Exit Through the Gift Shop, billed as "the world's first street art disaster movie", which made its debut at the 2010 Sundance Film Festival.
An exhibit featuring pieces from Banksy will be on display in Toronto's west end (213 Sterling Road which is a showroom near the Bloordale Village and Junction Triangle areas). The Art of Banksy in Toronto officially opens on June 13, 2018.
The following iconic Banksy images are now available as prints at Alternative Arts and can be made in custom sizes, and can be mounted for hanging, printed on canvas, and printed on aluminum to create unique works of art.
For more information and to find out if the image you are looking for is available please call us at (416) 923-4308 or come by the store. Click here for our location, directions, and store hours.

The Son of a Migrant from Syria (Steve Jobs)
The Son of a Migrant from Syria is a 2015 mural by graffiti artist Banksy. The mural was located in the Calais jungle (an encampment near Calais, France), where migrants lived as they attempted to enter the United Kingdom. The piece depicts the late Apple co-founder and former CEO Steve Jobs—the son of a Syrian migrant to the United States—as a traveling migrant.

Stop and Search (Girl and a Soldier) – Bethlehem
Girl and a Soldier is a Banksy art piece that appeared on a wall in Bethlehem in 2007 and features a little girl frisking an armed soldier. With this simple role reversal, Banksy provides commentary on both the persecution of children and how we dehumanize one another when we view each other only as threats.
I stopped [at Alternative Arts] because I noticed a Banksy print and have been looking for a specific Banksy image for my place. Graham was really nice and as we started chatting he confirmed he'd be able to print exactly what I was looking for in the size I needed. My custom canvas print came complete with picture hooks and he gave me advice on how to hang it. I'll definitely be back to get other work printed or framed. – Lily Ho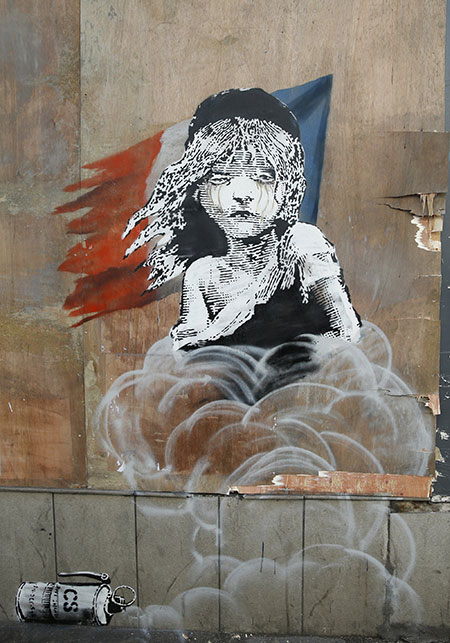 Appearing outside the French Embassy in London, this Banksy piece is meant to criticize/protest the use of tear gas on refugees in the "Jungle" camps in Calais
British graffiti artist Banksy struck New York with this mural going up in SoHo depicting a rat wearing an "I ♥ NY" T-shirt.

There is Always Hope (Girl with Balloon) – London, 2002
Considered by many to be Banksy's most iconic piece, this piece that appeared in South Bank, London in 2002 depicts the words 'There Is Always Hope' written near a young girl who is reaching for a balloon in the shape of a heart.

Boys Peeking – Weston-Super-Mare, Somerset, England, 2015
Another humorous Banksy piece that appeared in Banksy's "Dismaland Bemusement Park" in 2015. The stencilled piece depicts two boys peeking at a naked woman behind an iron curtain.

Super Mario
This humorous Banksy piece appeared in London and depicts Nintendo video game character Super Mario being caught by a policeman for possessing a mushroom.
Naked Man Hanging From Window – Bristol, 2006
Naked Man Hanging From Window, aka Well Hung Lover or simply Naked Man, is a Banksy mural that appeared on a wall in Frogmore Street, Bristol, England in 2006 and depicts a naked man hanging from a window, while a suited man looks out, next to a woman in her underwear. In 2009, the mural was defaced by a paintball gun, resulting in a partial restoration by the City Council. However, some paint splatters remain.
Basquiat Ferris Wheel – Barbican Centre, London, 2017
This Banksy piece appeared outside the location of the Jean-Michel Basquiat (originally a graffiti artist) exhibition in central London in 2017. The image depicts people lined up at a ferris wheel to buy tickets and many beleive it is meant to mock the exhibit. The ferris wheel's passenger cars have been replaced with crowns – a motif often featured in Basquiat's art.

Basquiat Police – Barbican Centre, London, 2017
This Banksy mural, which also appeared outside the the Jean-Michel Basquiat exhibition at the Barbican centre in 2017, features Basquiat's Boy and Dog in a Johnnypump – one of the artist's most famous artworks. Police officers are searching and questioning the boy figure.
Kissing Coppers – Brighton 2004
This Banksy piece first appeared on a pub wall in Brighton, UK in 2004 and features a frequent target of Banksy's political and social commentary – the police.
Queen Victoria

Achieve Greatness

Police & Graffiti Wall

Banksy Kid's House War and Peace

Queen Ziggy Stardust